Conversion of vans and trailers into special
designed vehicles for transportation of clothes in hangers
For this process we manufacture two kinds of vertical panels – aluminum and iron, supplied with 3 numbers of apertures in a form of pear - type "Standard", which we fix onto the boards of the van.
Tight order of the panels type "Regular"
This conversion allows maximum usage of the load volume of the van. That means more ůĺíäĺđč and more transported clothes in hangers.
Extended order of the panels type "Economic"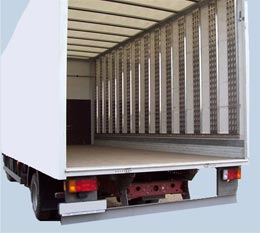 In this conversion we install the panels in a distance of each other, which allows nearly half reduction of the transformation value. The basic disadvantage is non-effective usage of the whole load volume. This transformation gives possibility of less transported clothes than in type "Regular".
Regardless of the type of your van, we can offer you the most suitable conversion that would allow your vehicle to transport clothes in hangers. We are in need only to be informed of the exact parameters of your van and our specialists will prepare and send you our price list.